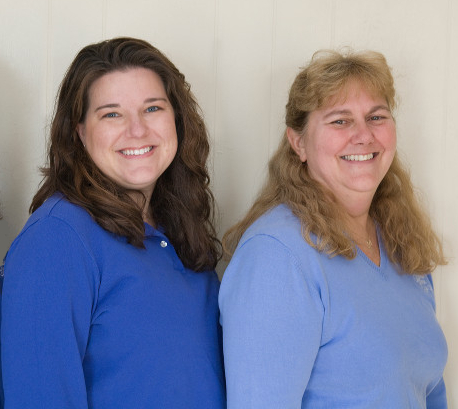 Bonnie and Dawn

Gentle Dental Care, P.C. maintains two highly professional staff members to make certain your visit to our office goes smoothly. The office staff will verify your appointment meet your individual needs, help make changes to your appointments when conflicts arise, and send you a friendly reminder when your appointment is arriving.
Our friendly office staff will greet you upon your arrival and check you in. In the event this is your first visit, they will verify that you have all the required information and provided us with the necessary information to best serve your dental needs.
Behind the scenes, the office staff will manage and protect your dental records, x-rays, and insurance information. Our office manager, Dawn, is extremely knowledgeable of dental insurance and will aid you in navigating the sometimes confusing benefits offered by your insurance company.

Our Front Desk Staff
Dawn Mosher-Belcher, Office Manager
Dawn Mosher-Belcher, CDA, CDPMA, joined the Gentle Dental Care team in September 1995 as a part time file clerk. Under the guidance and tutelage of Drís Peer and St Onge, Dawn trained to become a dental assistant. In 1999 she obtained her professional certification from DANB. In 2001 Dawn became the office manager and took the Dental Assisting National Board exam to become a Certified Dental Practice Management Administrator. Dawn loves going to Disney World and is a collector of anything Mickey Mouse.
Bonnie Lowe,
Bonnie has been with Gentle Dental Care, P.C. since 2007. She graduated from Hesser Collage with an Associates degree in Medical Office Management.