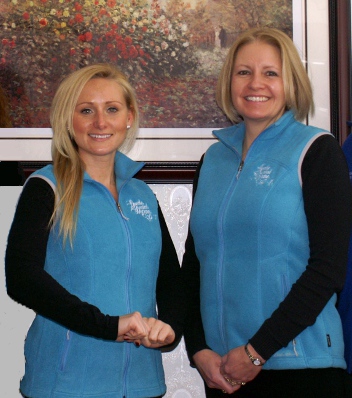 Jennifer, Wendy, Steve

Gentle Dental Care, P.C. has three board certified dental hygienists who work closely with the dentist to care for your oral health needs The dental hygienist provide the first line of defense against poor oral health. Most people think the hygienist only cleans your teeth. This is just a small part of the care the hygienist will provide. Prior to cleaning your teeth, the hygienist will:
| | |
| --- | --- |
| | Make a general assessment of your oral health. |
| | Review your overall health history. |
| | Perform an oral cancer screening. |
| | Examine your neck and head. |
| | Take your blood pressure to help detect uncontrolled or unknown hypertension (high blood pressure). |
If required, the hygienist will take x-rays of your mouth/teeth to allow a complete and proper evaluation of your teeth, gums, and supporting bone structures.
The hygienist will then clean your teeth by removing calculus and plaque from all surfaces of the teeth. While cleaning your teeth the hygienist will physically examine your teeth for any sign of decay.
The dentist may then examine your teeth to evaluate your oral health and determine if any preventive care or treatments is required.
The hygienist may perform the following as required:
| | |
| --- | --- |
| | Measure you bone health by measuring and documenting your gingival and periodontal pocket depths (bone and gum health). |
| | Apply preventative materials such as fluoride or sealants. |
| | Provide advise to maintain good oral health such as brushing and flossing techniques for your specific needs. |
| | Schedule your next cleaning. |

Our Hygienists:
Wendy DeSousa, RDH
Wendy is a 1987 graduate of the Dental Hygiene program at New Hampshire Technical Institute. She then furthered her education at Franklin Pierce University, majoring in marketing. Wendy has been a member of the Gentle Dental Care, P.C. Team since February 2001. She lives in Northfield with her husband and 2 children.
Jennifer Turner, RDH
Jennifer Turner started working at Gentle Dental Care, P.C. in 2000 as a chair-side assistant. She became a Certified Dental Assistant (CDA) in 2001 and continued to work as a CDA while attending hygiene school. Jen graduated from New Hampshire Technical Institute (NHTI) in 2004 with an Associate in Science degree. She majored in Dental Hygiene and minored in Science. Away from the office Jen enjoys coaching softball and being the leader of her Girl Scout Troup. She also has a love for hiking and camping.
Steve Zimmer, RDH
Steve started in dentistry in 1974 as a chair-side assistant. He graduated from NHTIís Dental Hygiene Program in 1978. Steve also worked as a dental lab technician. He enjoys gardening and hiking in all seasons with his wife, Beth, and dog, Skipper, from their home in Meredith Center.